25+ Most Used Sans-Serif Fonts in 2018

Maybe you are searching for Helvetica alternatives or maybe you are really just looking for ideas for that best next typeface in the sans-serif family. In general, these fonts are best used on websites and other digital assets. So in that regard, for those uses in particular these are my favorite best sans-serif fonts. The ability for these fonts to be interactive is quite available, as well. Primarily, most of these fonts have been used in iOS designs and mobile designs which natively seem to lean towards sans-serif as their reader font of choice. For example, Apple releases their own sans-serif font which has been making quite a wave in 2018. Apple's new font is called "San Francisco" and is being widely adopted by both the web design and mobile design community for its easy readability and scalability with regards to type sizing.
This list has been compiled by looking at some of the most recognizable web and mobile designs in 2018 and identifying which typefaces they've used in the sans-serif font family. If you have additions to this list, by all means please email me and I would be happy to include it as part of this compilation. Please note that this list was generated by my own personal sense of which fonts have been used by examining multiple projects and products. There is no download data to support why these fonts were most popular.
Futura
Apercue
Proxima Nova
Brandon Grotesk
Avenir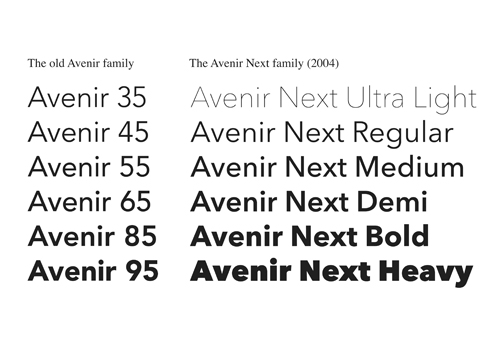 Gotham
Circular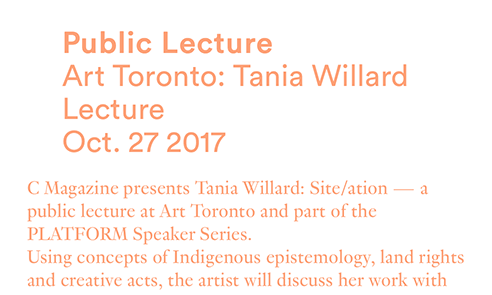 GT Walsheim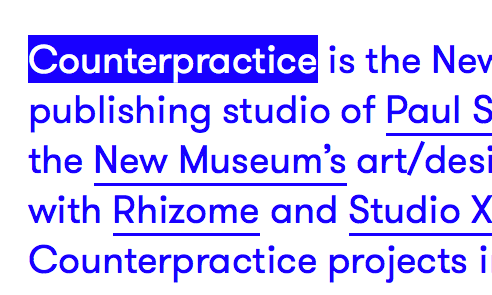 Neuzeit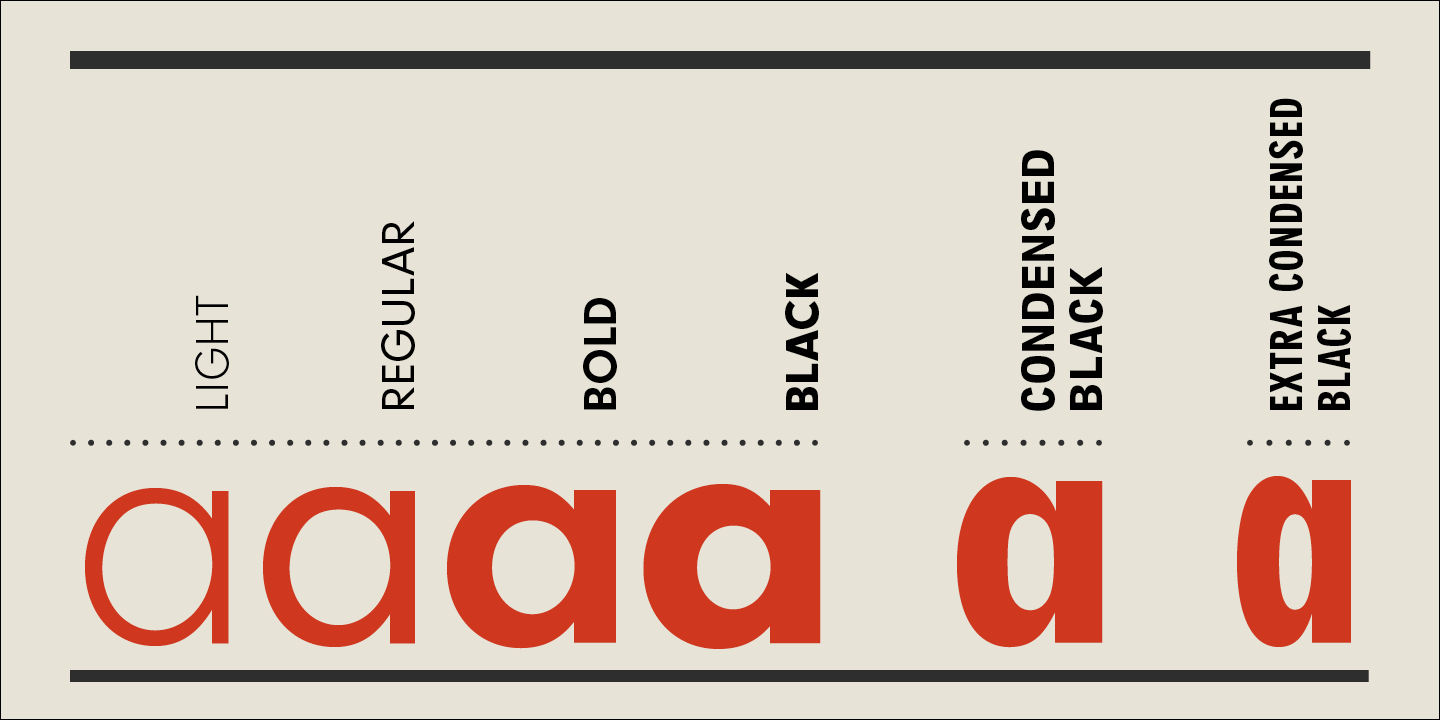 Franklin Gothic
Open Sans
Montserrat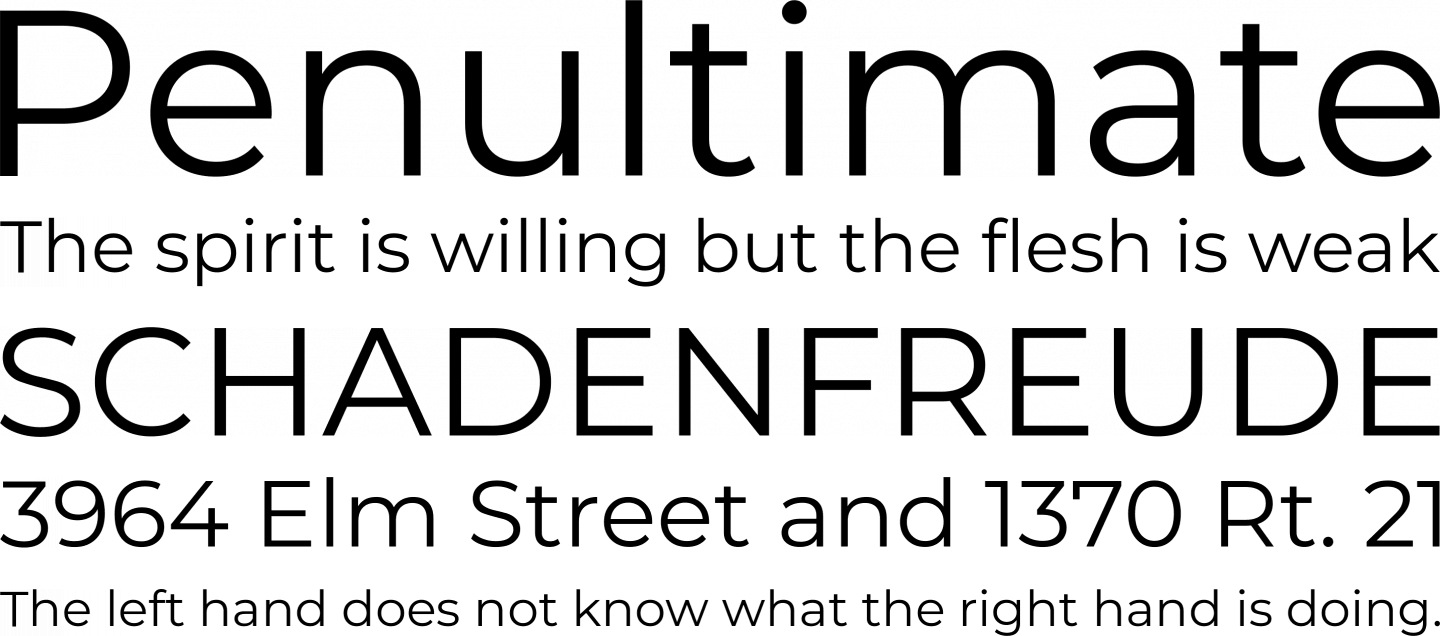 Aktiv Grotesk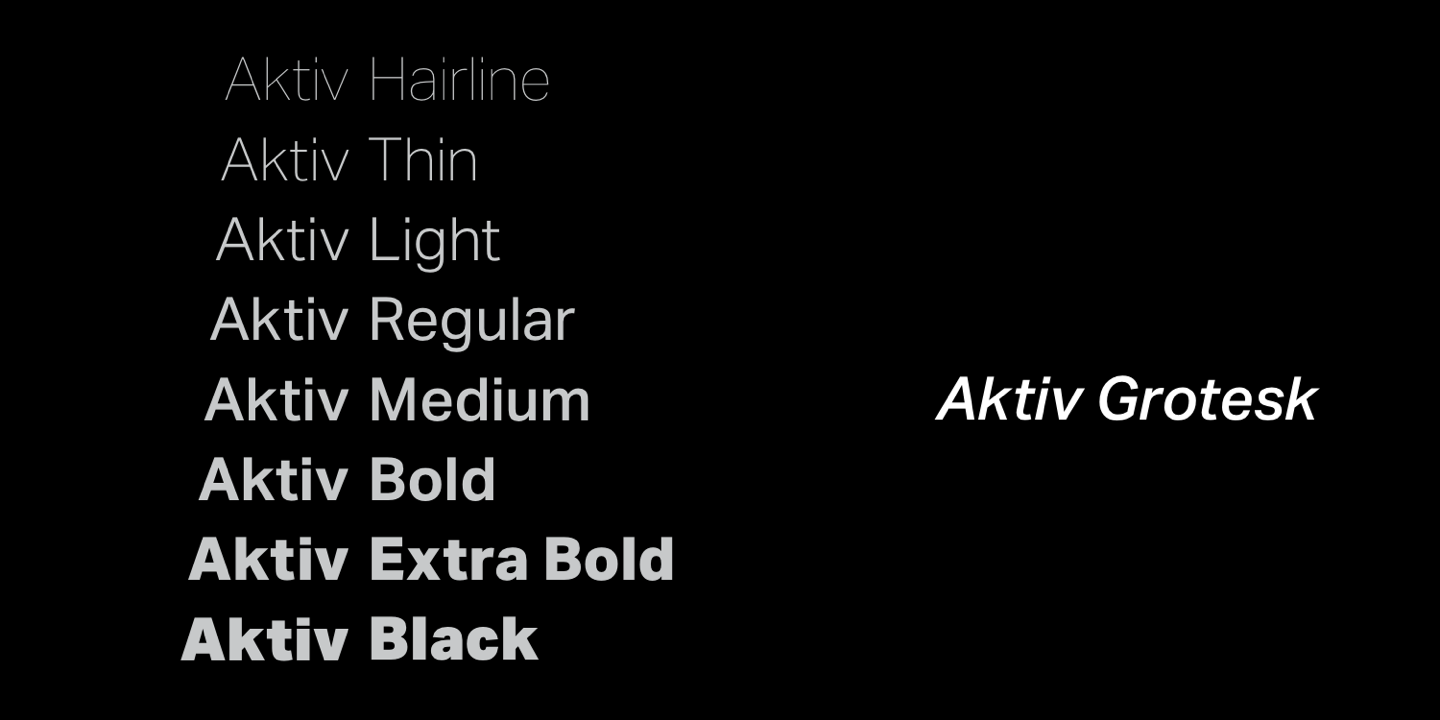 Akzidenz Grotesk
Folio
Neu Haas Unica
Neu Haas Grotesk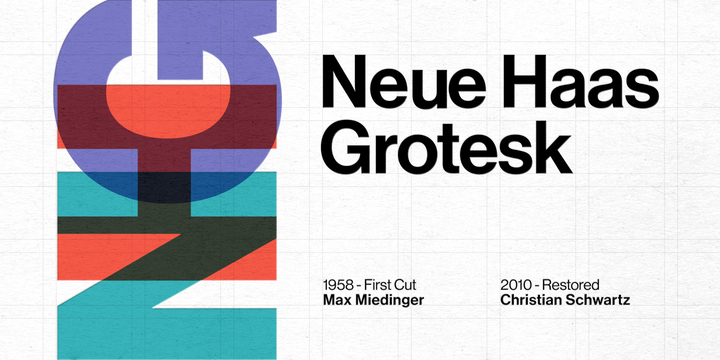 Maison Neue
Nimbus Sans
Univers
Standard CT
Gibson
GT Eesti
Sailec
Calibre
Graphik
Niveau Grotesk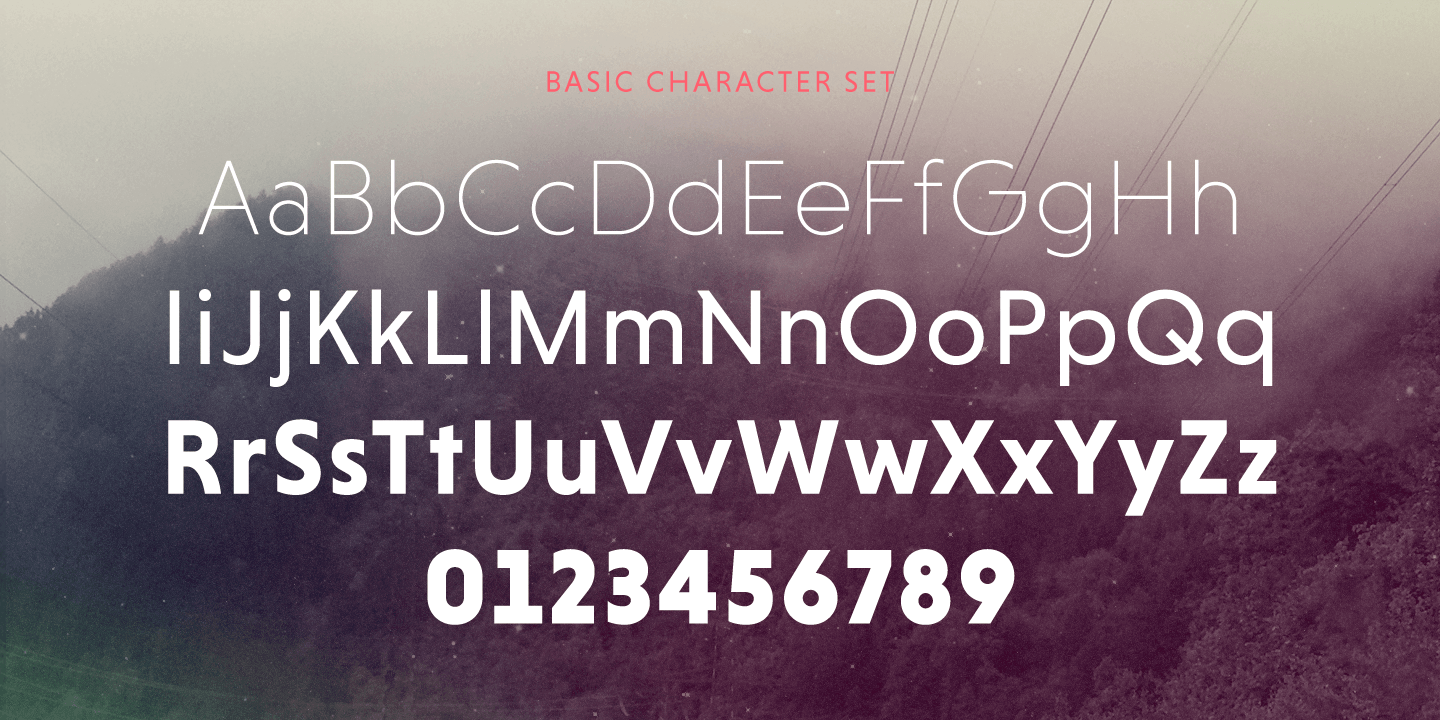 Museo Sans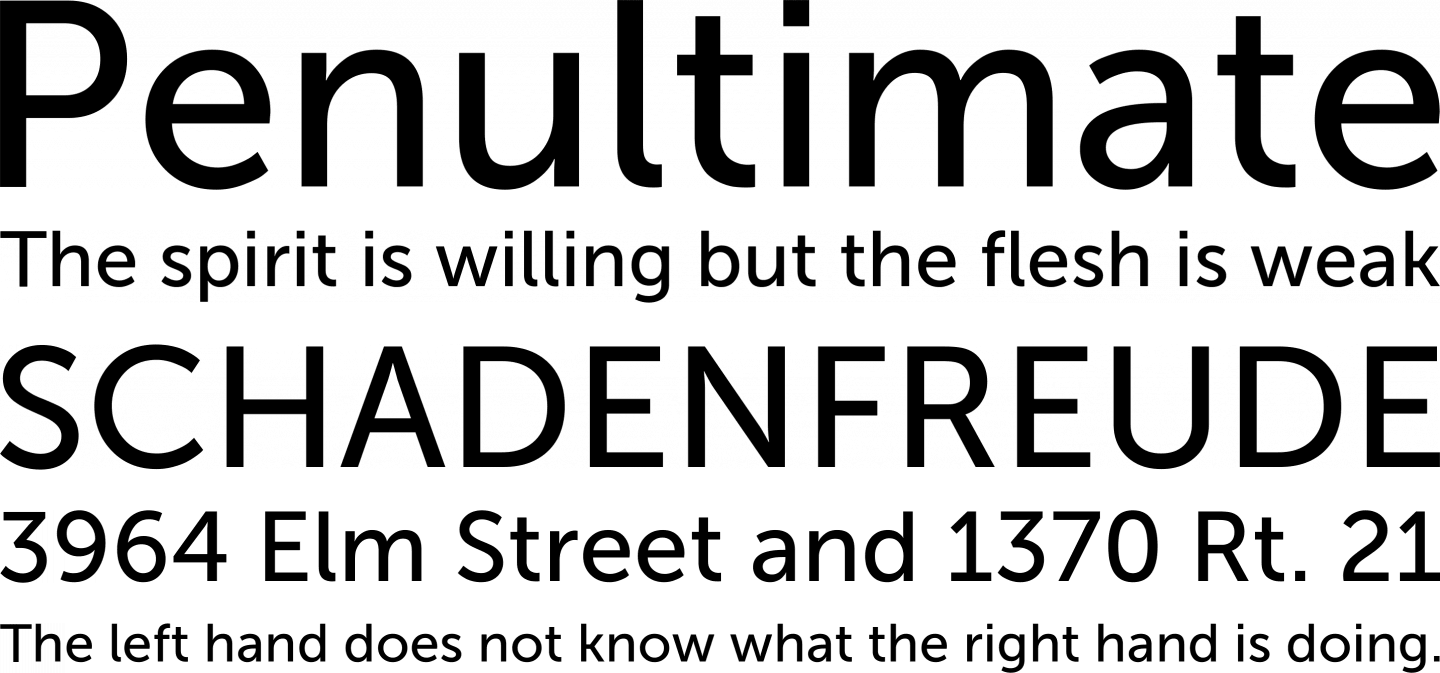 Thoughts on Sans-Serif Use
These are some of the most used sans-serif fonts I've seen come into the market in 2018. The use of sans-serif fonts has increased as digital products are focusing on simplicity and readability as a core component to making their users happy. Another big driver to the use of sans-serif fonts has been the stable mobile frenzy happening in the market. When we think of access to technology these days, the paradigm has shifted dramatically from desktop to mobile. And with regard to Apple products in particular, sans-serif is truly the only font choice which makes that product seem more native.
Experimenting with various sans-serif fonts
In general, the list above is a fairly stable list of the best fonts and typefaces. Most of them are not newly developed typefaces by any means, but they are quite stable. Meaning, they have been tried and true tested with users/readers in various situations. They also have great ability to increase and decrease in the type size without much impact on the readability to the user. This is yet another critical part of why they have been chosen more than others.
Where to find sans-serif fonts
There are many places where you can find sans-serif fonts for your next project. MyFonts and I Love Typography are two of my favorite resources. Mainly MyFonts for the more commercially focused types and then I Love Typography for some of the projects where I have a bit more flexibility with the creative, maybe something like a print billboard. Both have the ability to sell you commercial licenses for your projects.
Interesting FAQ about sans-serif fonts
Did you know that the first half of the 20th century is when revived typefaces were flooding the typography mainstream? The term sans-serif is actually French, it means "without serifs"! The idea was actually quite simple, drop the ends of the strokes of the typeface. It began in the early part of the 19th century but truly became popular again in the 1920s and 1930s. Futura was one of the most popular type designs of the 1920's era. Originally created in Germany in 1928, it truly encapsulates the Bauhaus ideology and strictly geometric outline. This was one of the main breakouts for the sans-serif font. It has since become one of the most distinguishable typefaces of all time. But during that era it was quite unique and daunting to be confronted with as a consumer. They started to coin the use of this typeface as the "new sans-serif" radical movement. The ideology started to describe their movement as "humanizing" the serif typeface.
The fonts that we use have become so common that we don't even think about the much these days. While there are literally thousands of different fonts that you can find the related to computers, there are but a few then drew the most commonly used. This includes Sans-Serif.
What Is a Sans-Serif?
In the world of font creation, most fonts will have some form of end strokes that distinguish them from other font types. This is where the Sans-Serif, or sans, differ from others.
The word "sans" literally means "without." This font is without serifs, hence the name Sans-Serif. There are no additional strokes or extensions off of characters, which is how it is separated from other common types of fonts, such as Times New Roman, Georgia, and others.
The History of Sans-Serif
This particular font was first introduced in the 18th century. At that time, it was referred to as an Egyptian font because it was more in line with traditional Egyptian characters. Most fonts at this time took on a very Romanesque look, following the traditional Latin design in terms of how letters were created.
Sans-Serif was much different. This particular type of font was developed primarily with a focus on ancient forms of Greek and Etruscan characters. In these typefaces, serifs were not present. In 1745, John Swinton wanted to make pamphlets in traditional Etruscan epigraphy in the development of the new font was born.
At the end of the 18th century, a form of art known as neoclassicism increasingly used Greek and Roman designs as part of the combination with contemporary structures. This led many architects, artists, and sculptors to use the Sans-Serif lettering. In fact, architect John Soane became well-known for his use of these letters in his architectural designs and drawings.
Advertising Led the Way
It was not long after that alteration in the form of lettering became popular in advertising used in London. Interestingly enough, despite the fact that this form of lettering traced its roots back to ancient Greece it became known as "uncultured" letters because of its lack of serifs.
The lettering began to see its rise and 1805 when the vast majority of advertisements used in shops and on signs in London contained this form of lettering. That same year, the European Magazine depicted the popular Sans-Serif fonts in their magazine, but it did not become the Fontan that was used by the magazine itself for over a decade.
It was not until 1816 when the first sans Serif printing type was added in England. Despite it increasing in popularity, it was surprising to see that it took over a decade before the printing industry capitalized upon this popularity and, it is believed, this only occurred because a customer specifically commissioned the production of the Sans-Serif printing type.
As rapidly as it had increased in popularity, its sudden disappearance began in 1817 and continued until 1828. For a nearly 11-year period it was a rarity to find the use of this font but, in 1828, Vincent Figgins issued a new Sans-Serif.
It was not long before modifications to the font began to develop and a whole Sans-Serif fonts family arose. In 1830, the "grotesque" face developed, which used an extremely condensed and bold design. This led to a series of fonts known as the "fat faces," which made capital letters incredibly prominent.
A Capital Idea
By the mid-1830s, the font began to find wide prominence in both France and Germany. The reason for its popularity was obvious. The typeface provided a great deal of clarity and it was legible for display from long distances away, something that advertisers, shopkeepers, and government agencies found to be of great value.
Many of the early designs for common Sans-Serif fonts were only made in capital letters. This is why a large number of monuments across Europe and the United States only provide lettering in capital letters. The lowercase letters simply didn't exist.
Appearing in Book Form
While the font had become increasingly popular, one area where the head had not been seen was in print form for books or pamphlets. Whether it was due to the slow production of lowercase letters or the print industry's resistance to developing presses using the font type is not known but, in 1900, the first book known to be printed using the Sans-Serif font was created.
It was a small booklet known as Celebration of Life and Art: A Consideration of the Theater as the Highest Symbol of a Culture, written by Peter Behrens. This would've seemed to open the door to more widespread use of the font but, instead, it seemed to have led to skepticism among the printing industry.
Many had viewed the use of this font as a means for advertising, but not for true printing. It was not viewed as particularly pleasing to look at, often referred to as "lumpy." One master publisher, Daniel Berkley Updike, even explained that the font had "no place in any artistically respectable composing-room."
Despite the resistance by the print industry, Sans-Serif began to increase in popularity across Europe and the United States. It was the influence of Roman capital letters that seem to inspire more 20 use the font within a wide variety of publications.
With arise in its popularity, the common Sans-Serif font began to undertake a facelift. The Monotype Grotesque design arose in the 1960s as did the neo-grotesque fonts, such as Helvetica. These funds have continued to be used up to today, and have been standard typefaces added to the vast majority of computer programs and website authoring tools.
It is quite amazing to think that it took nearly 200 years for this typeface to reach a level of acceptance, but it is clear that this font is here to stay. Today, Sans-Serif fonts are known by a wide variety of names. These include such things as Gothic, Egyptian, Antique, and Grotesque, as well as Doric. Many different new designs have been added as well, including Swiss and Industrial.
Popular Resources
Featured
Phone interviews have become a core part of the process when attempting to find a secured placement for an open position. Companies receive massive responses from potential candidates for any..
Featured
Concerning a job search, you might receive numerous offers from your recruiters. Before you choose one, you need to assess all the conditions, for which it is vital that you know everything associated with the offered position..
Featured
Answering this question during a job interview requires more than knowing why you are unique as an individual. Yes, the true scientific answer is made up of two main components: your..
Featured
So, you have been in search of a job for a considerable time but are yet to be selected for one. If that's the case, don't worry anymore because we have got you covered..
Featured
Open-ended questions like "What motivates you?" can elicit a deer-in-the-headlights reaction from job candidates if they are unprepared. It's a broad question and can leave the interviewer..
Featured
A lot of interviewers ask this question - how did you hear about this position? This way they can judge you if you are a passive or an active job seeker..
Featured
Writing a thank you note after an interview says a lot about you as a potential employee. Most notably, it says that you care about the opportunities presented..
Featured
Writing the perfect letter of resignation is more of an art than it is a science. And we're going to cover how to master that art form in this full guide..
Featured
Knowing how to end a business note or email is an important skill to develop. It helps portray a sense of confidence, respect and tone to your message..