What Does EOM Mean? (End of Month or End of Message)
What is EOM? It's beneficial to be as concise as possible while speaking on the job. Using the acronym EOM to simplify interactions is one approach to do so. It can swiftly relay tone or allow for more direct conversation, making interoffice memos much more efficient.
What exactly is EOM?
The acronym EOM stands for "end of message." Its use generally denotes the absence of any more information in a message or email. It might imply that your letter has no more information or that the receiver is not required to respond.
It's most commonly used in an email's subject line to indicate that the reader doesn't need to view the email's body because there's nothing important within. The initialism also implies that no additional discussion of the subject is required in the email, so the recipient does not need to react or respond.
In emails, how professionals utilize the acronym EOM
The most commonplace for professionals to utilize EOM in written communications is at the end of an email's subject line. This message is used in interoffice messages when only a brief statement is required. By including EOM at the end of the subject line, the reader understands that there is no need to open the email or go through the body of the message for crucial information. The shorter message saves time for both the sender and the reader since the sender spends less time sending emails and the reader spends less time reading emails.
When a professional wishes to convey that they don't need a response to their communication, they might utilize EOM. They're not just signaling the conclusion of the communication, but they're also indicating the end of the interaction. The sender communicates that no more debate on the issue is required by inserting EOM at the end of a subject line or a brief statement within the email's body.
This message gets frequently used to establish an authoritative tone by instructing the reader to stop communicating on a particular issue, but it also conserves time for important announcements or emails.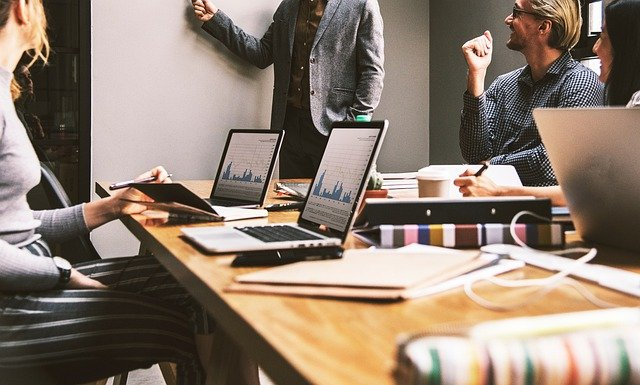 The advantages of using EOM in the workplace (EOM definition)
Using EOM in your business email communication has several advantages for both you and the recipient. These advantages include:
Ensures quicker communication.
The use of EOM at the end of an email's subject line considerably improves efficiency. It speeds up information exchange because the sender may include their message in the subject line. They can write more quickly as a result of this. EOM also informs the reader that they do not need to open the email to examine the body content. This improves how interoffice memos get sent, received, and understood.
Encourages one-on-one interaction.
EOM allows the sender of an email to communicate like that of a text message. Employees may converse one-on-one instead of sending extensive multi-person email chains. This message is especially true for urgent communications, such as a meeting cancellation or a deadline modification for specific employees or team members.
Focuses emails on a specific topic.
When the subject line contains EOM, you may send fast, single-topic communications. This message prevents long multi-subject messages from being sent, which may take longer to react to. More extended conversations might make it difficult to distinguish between critical themes. Because you may send quick comments throughout the workday, single-topic messages considerably boost team-based discussions.
Ensures that communication is clear.
EOM messages remove any subtlety from email conversations. They ensure that the intended message is received and understood as soon as possible. Because the email concentrates on a single issue, it's much less likely that readers would mistake the message's content.
It eliminates the need for excessive debate.
Employees or supervisors can successfully signal that a talk has covered all subjects by using EOM messages to express that no more discussion is required. This message lowers email traffic between parties and enables for clear transmission of orders or guidance. When managing big teams in a fast-paced work environment, this is critical.
Makes a claim to authority.
Company leaders can use EOM communications to demonstrate their authority. They may clearly explain that there is no need for additional debate because their message has offered unambiguous guidance. When managers are dealing with employee requests or discouraging conduct against common operating standards, this is an essential part of end-of-message notes.
Is the abbreviation "EOM" the same across multiple industries?
No. In the medical field, EOM does not mean "End of Message." It could refer to extraocular movement, for example. Or extraocular muscles. While in the business world, EOM is used in email messages where the subject line closes the entire message.
What does EOM mean in shipping?
For shipping and logistics teams, EOM means "end of month." Or sometimes, "end of message." To understand the correct usage, ensure that you're looking at the context for where it is getting used—for example, a purchase order over an email.
What does EOM mean in sales?
For sales and performance teams, EOM means "end of month." Or sometimes, "end of message." To understand the correct usage, ensure that you're looking at the context for where it is getting used—for example, a purchase order over an email.
What does EOM mean in business?
For sales and performance teams, EOM means "end of message." To understand the correct usage, ensure that you're looking at the context for where it is getting used—for example, a purchase order over an email.
In the workplace, there are a variety of ways to use EOM
Here are a few examples of how EOM may get used in messages:
Using EOM to send a message with a complete message in the subject line
"Team meeting at 3 p.m. on Friday canceled EOM," for example.
"Need documentation for Issue 3 by 5 p.m. Friday 6/24 EOM," says the second example.
These EOM examples demonstrate how to provide a clear message that does not require further elaboration. The email sender may now leave the email's body blank and be sure that the receiver has all the information they want. They may also quickly deliver the identical message to several people.
There is no need to respond while using EOM.
"All time-off requests require two-week advance notice for approval EOM," for example.
"Employees must clock in within 10 minutes of the designated EOM time," says the second example.
These examples demonstrate how the email sender, particularly those in management or supervisory positions, might indicate that a topic's debate has come to a close. Like the previous instances, the subject line represents the entire message, but it also communicates that the email recipients are not required to respond. When the issue is closed to further debate in fast-paced work contexts, this conveys the author's authority and speeds up communication.
Popular Resources
Featured
Concerning a job search, you might receive numerous offers from your recruiters. Before you choose one, you need to assess all the conditions, for which it is vital that you know everything associated with the offered position..
Featured
Answering this question during a job interview requires more than knowing why you are unique as an individual. Yes, the true scientific answer is made up of two main components: your..
Featured
An ice breaker question is a question that's asked from one person to another person in order to act as a conversation starter. It brings a connection...
Featured
Open-ended questions like "What motivates you?" can elicit a deer-in-the-headlights reaction from job candidates if they are unprepared. It's a broad question and can leave the interviewer..
Featured
A lot of interviewers ask this question - how did you hear about this position? This way they can judge you if you are a passive or an active job seeker..
Featured
Writing a thank you note after an interview says a lot about you as a potential employee. Most notably, it says that you care about the opportunities presented..
Featured
Writing the perfect letter of resignation is more of an art than it is a science. And we're going to cover how to master that art form in this full guide..
Featured
Knowing how to end a business note or email is an important skill to develop. It helps portray a sense of confidence, respect and tone to your message..