Top Dinosaur Puns (100+ for Adults, Kids, and More in 2023)
Looking for the world's best dinosaur puns? You must have watched all the Jurassic Park Series and are quite aware of dinosaurs. They were these really cool huge reptiles who roamed on our planet long long ago! What made them cool was their gigantism, ridiculously short limbs, and spines on their backs. A few dinosaurs also could fly! In a way, it is quite a relief that they are extinct!
However, what is left behind of these cool reptiles is that they have become an inspiration for puns and jokes
We have compiled a good list of some of the best dinosaur puns for you. You can share these fun puns with friends, family, and also with children.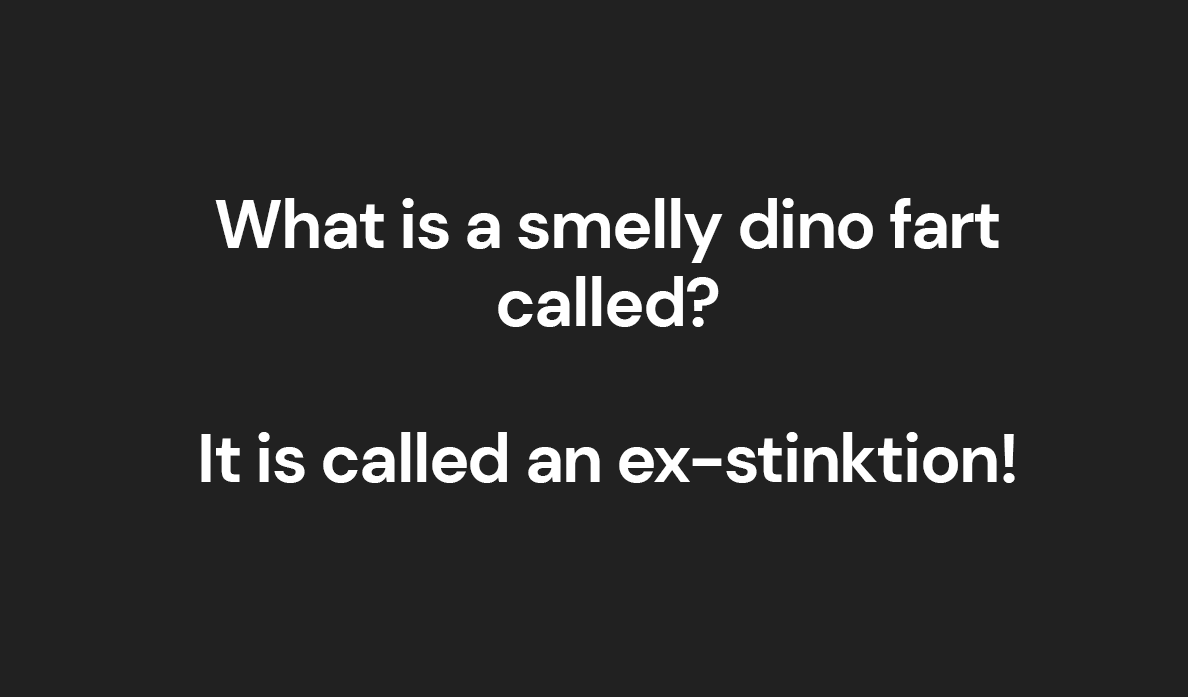 Best funny dinosaur puns
How should a person invite over a dinosaur for tea? Will you have some Tea, Rex?
What is a dinosaur in cowboy boots and a hat called? It is called a Tyrannosaurus Tex!
Why did an Archaeopteryx catch a worm? Because 'twas the early bird!
Where does a dinosaur go to shop? He went to shop at a dino-store!
What tool is used by the prehistoric reptile carpenters? They definitely use a dino-saw !
What is a T.Rex that hates losing, called? He is called a very saur loser.
What happens if a dinosaur is crossed with a pig? You get the Jurassic Pork!
What are twin dinosaurs called? A Pair-odactyls!
What is a dinosaur whose armor is left in the rain called?A Stegosau-rust.
What is a one-eyed dinosaur called? Its called an Eye-saur!
Why can't anyone hear the Pterodactyl when he heads to the loo? Because "pee is silent"!
What is a dino car accident called? A tyrannosaurus-wreck!
What's the favorite drink of dinosaurs? Has to be Rex on the Beach!
What is a baby Dino called? A Weee-Rex!
What is a group of singing dinosaurs called? Tyranno-chorus.
What is a dinosaur called post the couple break-up?It is called a Tyrannosaurus ex.
What is a smelly dino fart called? It is called an ex-stinktion!
What will we get if we cross explosives with the T- Rex? We get a very explosiveDino-mite!
What is the ghost of a dinosaur called? It is called the scaredactyl!
What's the favorite store of a Dino child's? It has to be Toys-"R"-Us.
What is that short and spiky Dino called who fell off the stairs? We call it an Ankle-is-sore-us.
What is the favorite quote of a dinosaur? "Jurassic times, call for ..Jurassic measures!"
Why are old Dino bones exhibited at museums? Because the museum cannot afford new bones!
What is a dinosaur who never ever gives up called? He is called the Try-try-try-ceratops!
What do you call the scariest of all dinosaurs? It is called a Terror-dactyl!
Why did a T-Rex cross a road? Because chickens didn't evolve yet.
What is well-read dinosaur called? We call it a thesaurus!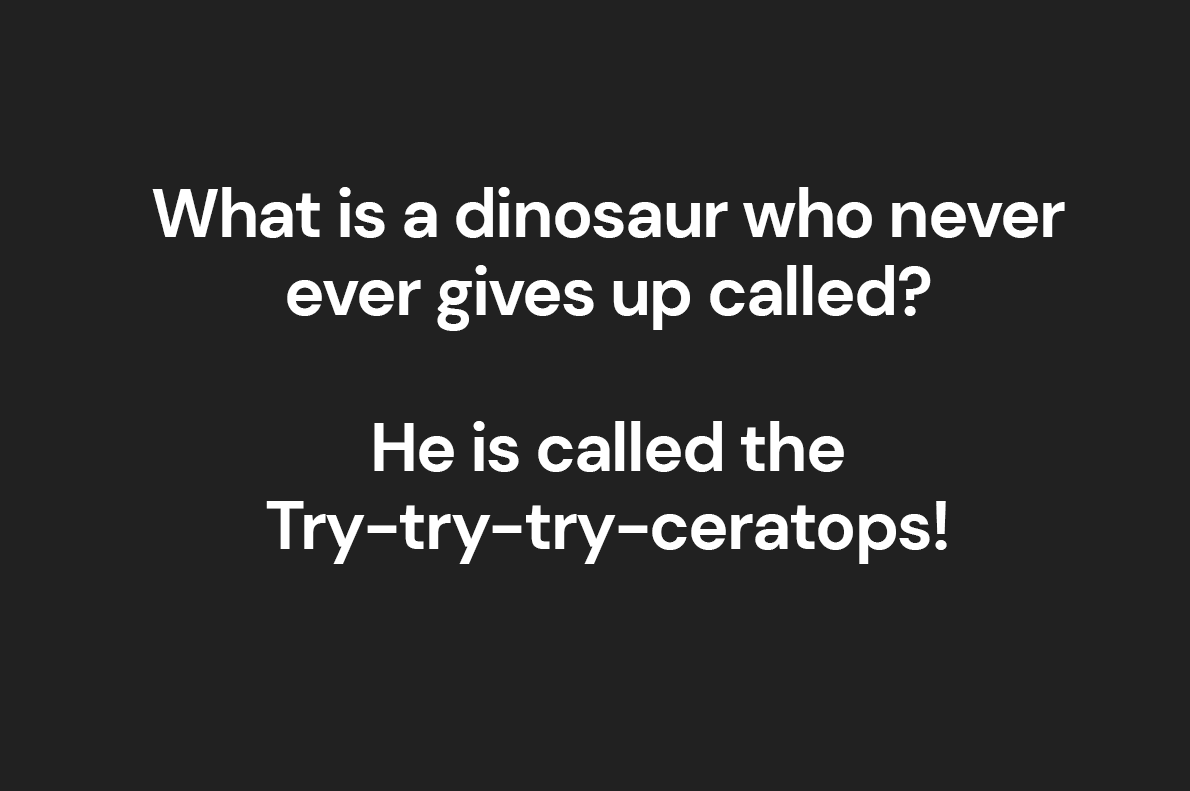 How will you know there is a seismosaurus under the bed? You can! As your nose will be just two inches away from the room ceiling!
What is an anxious dinosaur called? We call it a nervous Rex.
What would a dinosaur that is a very noisy sleeper be called? Definitely, he would be a Tyranno-snorus!
Dinosaur Birthday Puns
If you wish to communicate with a velociraptor, what is the best way? You can talk to it via Long-distance!
How will you know there is an allosaurus in your bed? Its pajamas will have the very visible bright red sign "A".
What is a dinosaur who talks non-stop called? It is definitely named a dino-bore!
What name did the dinosaur give to her business of blouses? She named it Try-Sara's-Tops!
What does a dinosaur use for its cars? It uses Fossil fuel!
How will you understand if a dinosaur is hiding in the fridge? Obviously, the door will never shut!
If Harry Potter were to be a dinosaur, what would he be? He would be a dinosorcerer.
How should one raise a baby Dino? Definitely by using a crane!
Dinosaur Valentine's Day Puns
What will a dinosaur do, who is having sleep apnea do? He will be called a Dino-snore
What is a curry eating dinosaur called? We call it a Mega—Sore—As*.
What will a triceratop sit on? It sits on its tricera-bottom.
What should you do, if you ever come across the tyrannosaurus rex? Start praying that it does not notice you!
What is a sleepy paleontologist called? He is called Lazy bones!
What materials will a dinosaur use for the flooring of their house? They use Rep-Tiles
Why was the factory devoted by the Apatosaurus? Because she is a plant-eater
Why did the teenage dino act so moody? Because of its ROARmones.
Where did your dinosaur clown work? He got a job in the carnivore.
How will a triceratop speed his computer? By giving it a RAM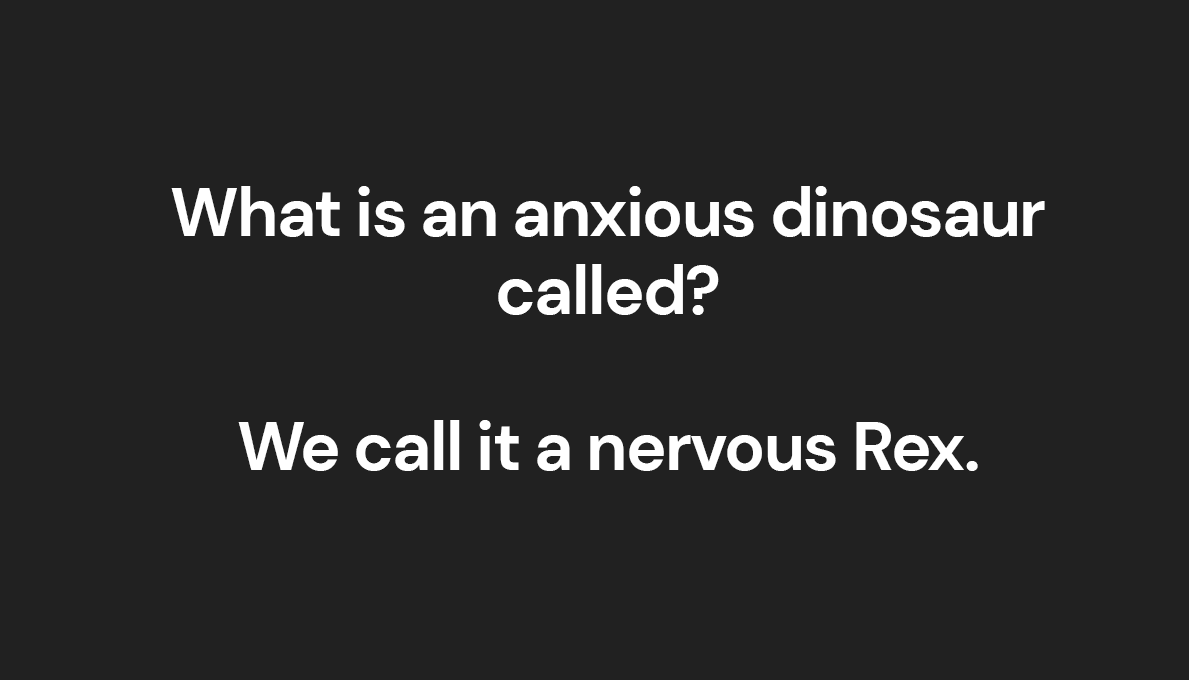 How to tell a funny dinosaur pun
Here is a simple way to tell a funny pun.
Look for good timing
Timing a pun is what's going to make it great. Are you in a car wash? Think about a pun that has to deal with water. Or on a first date? Try to break the ice and build a connection with a short joke.
Don't take it too seriously
A relaxed and easy going delivery is going to make the pun funny. Some people will enjoy it, while others might not. It's up to them! A good laugh is great medicine.
Memorize a few
Always have a few puns in your back pocket. Look for ideal moments. Remember, timing is everything when it comes to funny jokes!
Don't look to be the center of attention
Telling a funny pun can be a great way for introverted people to come out of their shell and display their personality. Although, it's best to avoid trying to be the center of attention. Avoid telling your pun too loudly. Or trying to interrupt an active conversation just to show off your humor.
Where to use dinosaur puns
Puns can be a great way to make someone feel good. Use them in the following formats:
On social media captions (Instagram, Snapchat, Facebook, and TikTok).
On thank-you cards, birthday cards, "get well" cards, Valentine's Day cards, and more.
Randomly, when the moment strikes.
Related puns
Popular Resources
Featured
Concerning a job search, you might receive numerous offers from your recruiters. Before you choose one, you need to assess all the conditions, for which it is vital that you know everything associated with the offered position..
Featured
Answering this question during a job interview requires more than knowing why you are unique as an individual. Yes, the true scientific answer is made up of two main components: your..
Featured
An ice breaker question is a question that's asked from one person to another person in order to act as a conversation starter. It brings a connection...
Featured
Open-ended questions like "What motivates you?" can elicit a deer-in-the-headlights reaction from job candidates if they are unprepared. It's a broad question and can leave the interviewer..
Featured
A lot of interviewers ask this question - how did you hear about this position? This way they can judge you if you are a passive or an active job seeker..
Featured
Writing a thank you note after an interview says a lot about you as a potential employee. Most notably, it says that you care about the opportunities presented..
Featured
Writing the perfect letter of resignation is more of an art than it is a science. And we're going to cover how to master that art form in this full guide..
Featured
Knowing how to end a business note or email is an important skill to develop. It helps portray a sense of confidence, respect and tone to your message..