What Does "FWIW" Mean? Slang Definition for 2022
What does FWIW mean? Does it mean For What I Would? Does it mean something inappropriate? Can I use the acronym in a business setting? When someone uses "FWIW" in a digital conversation (text message, Slack, Microsoft Teams), it can be confusing to understand.
Learn what "FWIW" means in this short guide...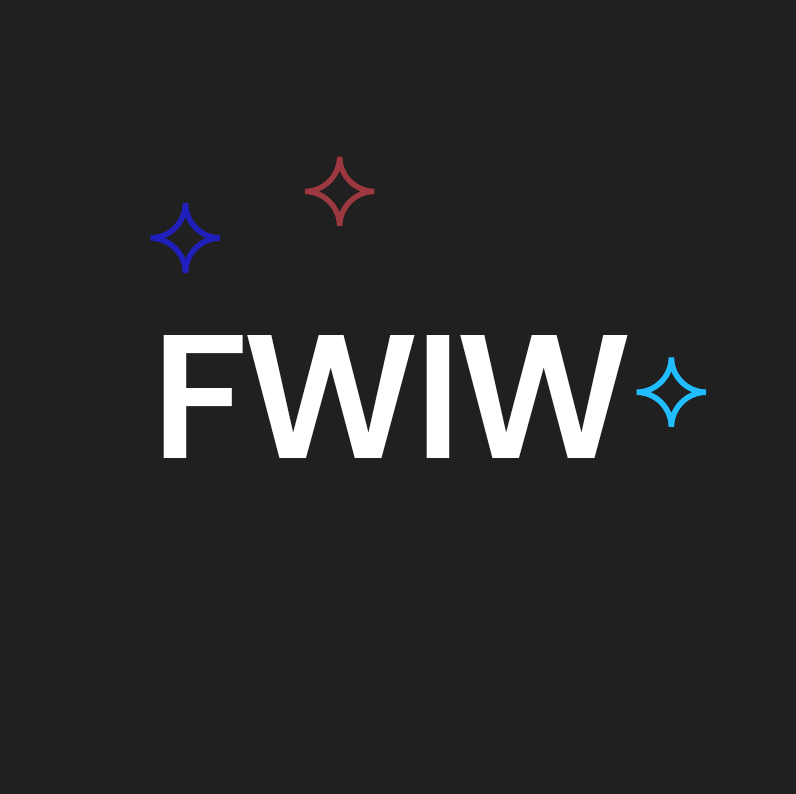 "FWIW" meaning and definition
"FWIW" simply means, "For What It's Worth." It is an idiom that rarely caries any literal meaning. It is used to politely disagree or try to share an opinion with someone.
For example, if a conversation is had between two friends. And they are discussing the benefits of fasting. The two might share their opinions. And one person might say, "I don't think it has any benefit, FWIW."
This is a softer way of sharing an opinion. "FWIW" can often get replaced with "FYI," which is a slightly more forward way of saying, "For Your Information."
Other meanings
While these meanings are far less used, some could include:
For Whoever Is Watching
For Whoever Is Wondering
History of "FWIW"
Urban Dictionary dates "FWIW" as far back as 2003. It is one of the older acronyms used on the internet to describe someone's opinion. More recent abbreviations and phrases that have come from "FWIW" are "IMHO," or "In My Humble Opinion."
Google Trends shows that the acronym has gotten use as far back as 2004. With the idiom itself getting used as far back as the 1800s.
An early days literary example can be found in William Henry Oxberry's 1844 drama "Newton Foster, or The Merchant Service." Where it says, "Consequently, your viewpoint goes for what it's worth—nothing," one character remarks to another.
Other variations of the term and prepositional phrase have gotten use in the English language for decades. With phrases like, "Your opinion isn't worth anything." Or "For what it's worth, I don't care to hear about your story."
"FWIW" could get used in more digital settings today. From message boards to text messages. And from Slack messages to Microsoft Teams groups. "FWIW" could get used in a business setting or an informal setting.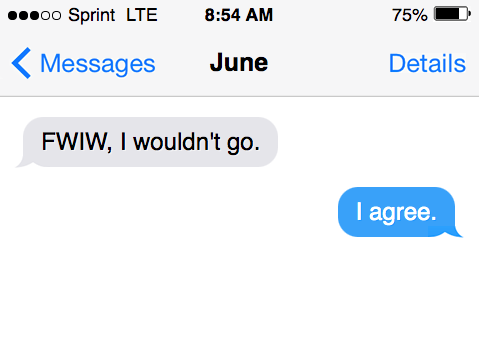 Example of "FWIW" getting used in a text message
Examples of "FWIW" getting used in a conversation:
Example one
Friend 1: "If I'm honest IMO, you really have to stop dating her, FWIW."
Friend 2: "Yeah, I totally get it."
In this example, the person is using both "IMO" and "FWIW" in a sentence. It is getting used to describe a situation where the first friend feels strongly about the subject matter. And is sharing their perspective, opinion, and idea of the topic. They are using the acronyms to make a strong point.
Example two
Friend 1: "FWIW, we can do this anytime you want."
Friend 2: "Okay, that sounds great."
This second example shows someone using the acronym at the beginning of the sentence to inform the other person that an opinion is about to get shared. This is to soften the idea and make sure the person doesn't get the wrong impression of what they are about to say.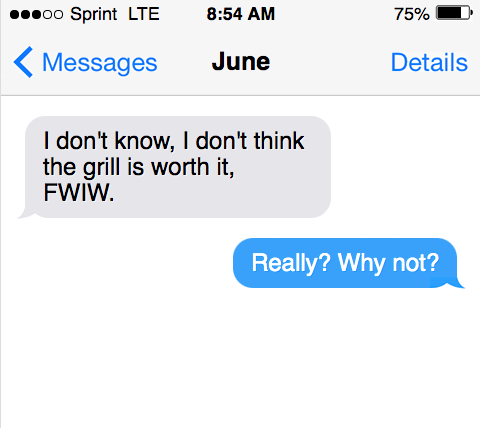 Similar short forms and abbreviations
Other similar short form and abbreviations that are used in text conversations to convey a similar message:
FYI: Which stands for, "For Your Information." Which has a more snarky tone when repeated aloud from a text conversation.
IMO: Meaning, "In My Opinion," which is another way for someone to share how they feel about something in a conversation.
IMHO: Or, "In My Honest Opinion," which refers to someone trying to say that they are telling a more forward, honest opinion about a subject.
Short form and slang guides
Other short form and slang guides to help understand acronyms used by friends:
Popular Resources
Featured
Concerning a job search, you might receive numerous offers from your recruiters. Before you choose one, you need to assess all the conditions, for which it is vital that you know everything associated with the offered position..
Featured
Answering this question during a job interview requires more than knowing why you are unique as an individual. Yes, the true scientific answer is made up of two main components: your..
Featured
An ice breaker question is a question that's asked from one person to another person in order to act as a conversation starter. It brings a connection...
Featured
Open-ended questions like "What motivates you?" can elicit a deer-in-the-headlights reaction from job candidates if they are unprepared. It's a broad question and can leave the interviewer..
Featured
A lot of interviewers ask this question - how did you hear about this position? This way they can judge you if you are a passive or an active job seeker..
Featured
Writing a thank you note after an interview says a lot about you as a potential employee. Most notably, it says that you care about the opportunities presented..
Featured
Writing the perfect letter of resignation is more of an art than it is a science. And we're going to cover how to master that art form in this full guide..
Featured
Knowing how to end a business note or email is an important skill to develop. It helps portray a sense of confidence, respect and tone to your message..