What Does "UwU" Mean? Emoticon Definition (2022)
What does UWU mean? Is the meaning of UWU bad? Does it mean Ultimate Warrior United? When someone texts with the abbreviation and acronym UWU, it can be confusing to understand what it means.
Learn what "UWU" means in this short guide...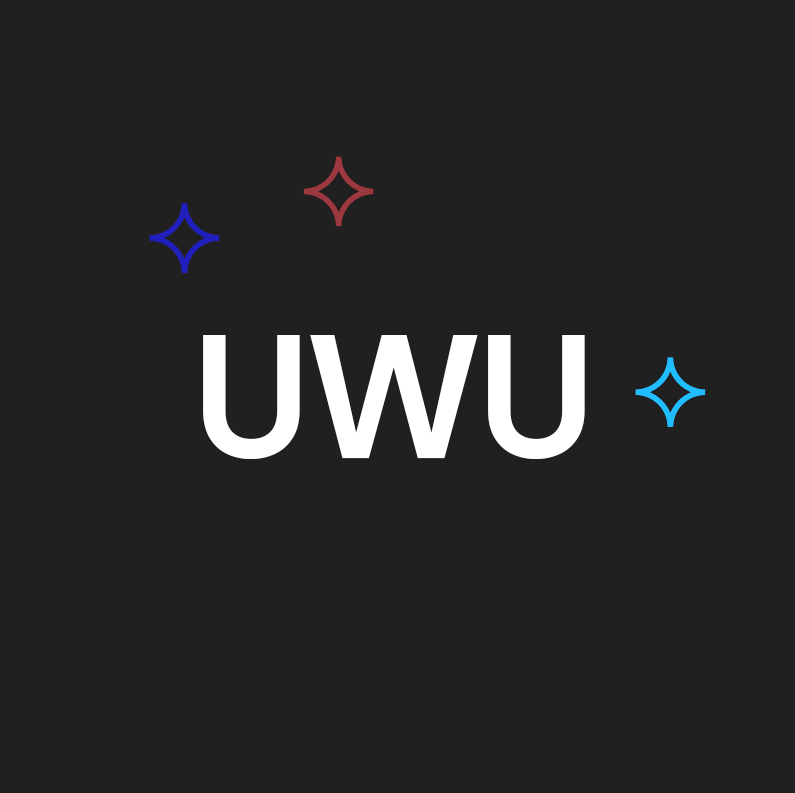 "UwU" meaning and definition
"UwU," when used in a text message, is depicting an emoji or emoticon of a smiling face. Both the "U" letters in the "UwU" acronym are intended to be eyes, smiling, in a cute face manner. The "w" in the "UwU" acronym is intended to be the faces nose.
It is often used in furry fandom as it has a strong emotional appearance. The emoticon depicting a cute smiley face is frequently used as a response to something that is making the person feel endearing, cute, or loved.
A closely related emoticon is "OwO," which also depicts a emoticon face, although with a shocked look.
"UwU" is considered a happy anime face amongst those familiar with anime culture. Japanese and Korean cultures frequently use this emoticon when responding to something cute or Kawaii.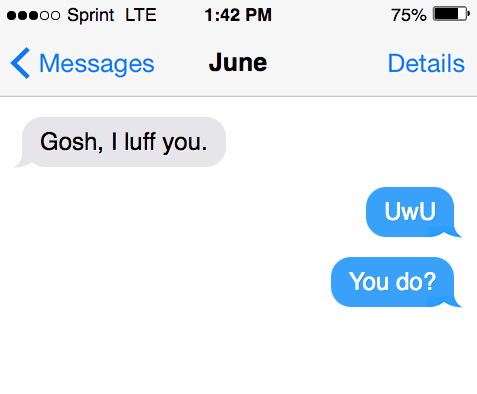 How to use "UwU"
Typically, someone would use "UwU" in response to something kind, sincere, or nice. They would be trying to express a very friendly, appreciative smiley face. With the facial expressions that of someone who was happy.
Most commonly, it would get used with capitalization on both of the "U" letters and a lowercase "w." In other circumstances, someone might use it with all lowercase letters. And is less common cases, all capitalization letters.
Furries are fascinated with anthropomorphic animals and they often dress like these animals. The "UwU" acronym is intended to have a similar appearance to a anime-like or cat-like creature having affectionate feelings.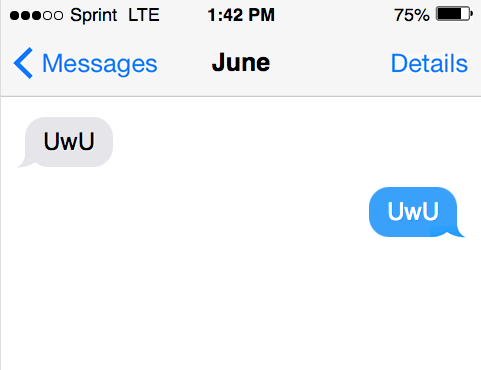 History of "UwU"
Urban Dictionary dates the "UwU" use to 2012, although it has gained in popularity starting from 2018 due to Furry Fandom culture rising amongst teenagers and adults in the United States.
In 2018, Mark Hamill used the "UwU" emoticon in a Tweet, increasing the popularity of the use of the acronym and emoticon.
Example of "UwU" in text messages
These examples show someone using the "UwU" acronym to show cuteness or happiness on the internet when having a conversation.
Example one
Friend 1: "I luff you."
Friend 2: "UwU"
This conversation is simple. And conveys the expression that the two people are sharing, which is love.
Example two
Friend 1: "Aww, it's so cute! LOL"
Friend 2: "Yes! My face is like UwU"
In this second example, the two friends are speaking about something that is giving them the emotional response of feeling love, cuteness, or general affection.
Other similar short forms and abbreviations
Similar internet slang terms and emoticon's that could get used online:
OwO: In this emotion, the person is responding to a conversation or event with a shocked face. The facial expression would be depicting someone who is stunned, confused, or generally in awe of a situation.
OwU: A similar emoticon depicting another type of cute face. The "UwU" and "OwU" emoticon are very close in nature. And are only slight variations of the use. The meanings behind the two of them are identical.
Short form and slang guides
Other short form and slang guides to help understand acronyms used by friends:
Popular Resources
Featured
Concerning a job search, you might receive numerous offers from your recruiters. Before you choose one, you need to assess all the conditions, for which it is vital that you know everything associated with the offered position..
Featured
Answering this question during a job interview requires more than knowing why you are unique as an individual. Yes, the true scientific answer is made up of two main components: your..
Featured
An ice breaker question is a question that's asked from one person to another person in order to act as a conversation starter. It brings a connection...
Featured
Open-ended questions like "What motivates you?" can elicit a deer-in-the-headlights reaction from job candidates if they are unprepared. It's a broad question and can leave the interviewer..
Featured
A lot of interviewers ask this question - how did you hear about this position? This way they can judge you if you are a passive or an active job seeker..
Featured
Writing a thank you note after an interview says a lot about you as a potential employee. Most notably, it says that you care about the opportunities presented..
Featured
Writing the perfect letter of resignation is more of an art than it is a science. And we're going to cover how to master that art form in this full guide..
Featured
Knowing how to end a business note or email is an important skill to develop. It helps portray a sense of confidence, respect and tone to your message..